Changes at FlyingRC.net
Responding to your requests and suggestions
Text and photos by Tom Hintz
Posted – 2-22-2015
Traffic on FlyingRC.net has jumped considerably over the last couple of months and with that the number of requests and suggestions has risen as well. Not surprisingly Reviews tops the popularity list but How-To's are a close second. The good news is that many of the How-To requests involve procedures that are commonly a part of building todays RC planes which allows me to extend the bang for the considerable bucks spent to produce this material.
It would be easy to ramp up the number of reviews if I would use inferior (cheap) products as subjects. Since I am uncomfortable reviewing something that I already suspect is inferior I will focus on products that I use in my flying or would use if I had the need. Beating up on a dud product is just a waste of your time and my very limited budget.
The biggest change to how I produce reviews will come with airplanes. A big majority of viewer questions and suggestions revolve around many points within the assembly and setup of the planes we fly. To fill these needs I am going to break airplane reviews into several segments which allow increasing the detail substantially. There will also be common assembly points that will turn into stand-alone How-To articles in addition to the reviews themselves.
We are also going to look more closely at setting up review planes for the maiden flights. I do a fair number of maiden flights for people at our RC Wingers flying field (www.rcwingers.com - Mooresville, NC) and get to see common mistakes people make, usually because they just have not experienced this before. I hope that presenting material focused on preparing for the all-important maiden flight will make this process easier for the test pilot as well as the understandably nervous owner.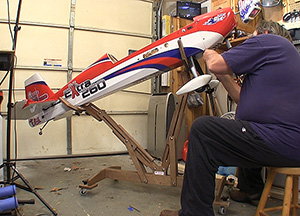 Test flying of a new plane is always a big part of a review and that is going to be expanded also. I normally check several different flight characteristics of a new plane and will develop a "script" that we can use when shooting the video of these flights to be sure you get to see how a particular plane handles the basic maneuvers. Using a "script" for these videos will also make it easier for viewers to compare one plane against another because you will be able to see them doing similar things in the air.
Another new feature will be using additional pilots (not just me) to get more than one perspective on a planes performance. I will continue to do the initial test flights of review planes but once the setup is complete the transmitter will pass through at least one more set of hands. If the plane belongs to another pilot we will try to depict what kind of learning curve they went through before being able to solo on that plane.
The down side to all these changes is the cost of producing them at a level I am comfortable with. I refuse to cheapen up the photography or video. I also will not shorten reviews by leaving out important information just to reduce the cost or time necessary to present a complete review that is easy to understand and as useful to the viewer as possible. If you would like to help grow this resource visit my "Help Me Fight Alzheimer's" fundraising campaign and donate whatever you can. Every little bit helps. Producing this material is also great therapy in the fight against the progression of this disease.

As always, I am always open to suggestion or comment. Click Here to email me!