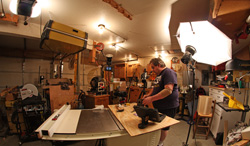 The enjoyment of RC flying drives the ambition to fight the disease even at 3am when I get much of my work done in the quiet of the shop.
Click image to enlarge
The Goal - Fly a P47 at Joe Nall 2016
Help me show that the diagnosis isn't the end!
Text and photos by Tom Hintz
Posted – 8-3-2015
A good friend pointed out that I have been focusing primarily on the near future rather than including longer term goals in my plan to fight Alzheimer's. I think it is easy to put the future out of my conscious mind when there isn't as much future as I would like. However, as my friend aptly points out a longer term project that satisfies some of my "Bucket List" goals refocuses my brain to fight a little harder and furthers the fight against this disease.
A recent addition to my list of things to do is flying at the famed Triple Tree Aerodrome in South Carolina, one of the finest RC facilities anywhere in the world. Each summer they have one of the biggest meets in the world called Joe Nall week (May 2016) that draws the finest pilots and planes from around the world. One of the things I like about RC flying is that there is still room for virtually anyone with the desire to fly at that meet as well.
Also on my list of things to do is building a warbird. After lots of reading and watching videos I have settled on the Top-Flite Giant Scale P47 Razorback. Building this plane means lots of component Reviews and How-To's to bolster my site and provide more info for RC'rs long after I am gone. A more immediate benefit is that the Top-Flite Giant Scale P47 Razorback also makes me eligible to fly at the many warbird fun fly events that occur all over our area.
As you might suspect, building a Top-Flite Giant Scale P47 Razorback is not a cheap project, especially if it is built to be reliable. I have no intentions on extravagance in the selection of components but I do want good quality pieces that can be depended on when part of the goal to fly the plane in front of a large crowd of people. A project like this can cost upwards of $3500 by the time it is done but the wealth of information it generates for the site not to mention the months of brain exercise make this an attractive project.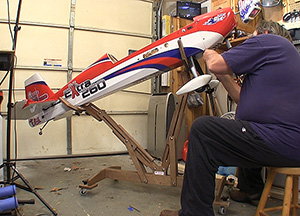 The idea of a new project is exciting because of the wealth of information I can add to my sites before the plane ever leaves the ground. That content is even more important in the future to add income when I am gone or unable to do this anymore.
Click image to enlarge
Like many of the Reviews and How-To's already on FlyingRC.net the GoFundMe campaign will be key in making the Top-Flite Giant Scale P47 Razorback project a reality. The GoFundMe campaign has made it possible for lots of people to contribute at the level at which they are most comfortable. I am always open to one or two wealthy donors funding a project but reality suggests that this will be an effort by a number of interested folks from all walks of life and I like that demographic as is reflects the RC flying community more closely.
Please consider adding your donation to this effort and use the GoFundMe box in the right margin. While I will certainly appreciate any donation there is a growing number of folks with similar Alzheimer's diagnosis that are watching what I am doing and hopefully deriving some inspiration to further their fight the progress of the disease. You can't cure Alzheimer's with a donation but you can help me show that the diagnosis is not the end and that we can find enjoyable things to fight the progression.
Have a comment on this story? –Email Me!