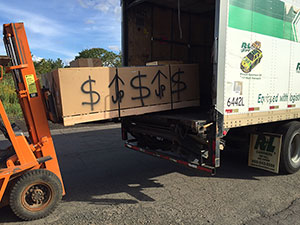 So how do you get a huge Ziroli DC-3, engines and all, from Connecticut to Texas? Whip out a solid, custom built crate!
Click image to enlarge
Send Me a Giant DC-3
Part of the FlyingRC.net Texas Bill Squad Steps It Up
Photos by the planes builder
Text by Bill Rutledge and Tom Hintz
Posted – 9-28-2016
One of the founding FlyingRC.net Texas Bill Squad "Bills" doesn't do a lot of stuff half way. He makes a living piloting a commercial airliner to places like Lima Peru, winds up in Alaska pretty regularly and finds time to keep a string of texts coming my way from wherever he is laying over.
The other day he mentioned going to Connecticut to see a Ziroli DC-3 that was made from Ziroli plans by an obvious master builder, had been flown and was now for sale. Bill bought the completed plane and then had to get it back to Texas. The picture story that follows shows what it takes to build a shipping crate that will get such a valuable plane across half of the country and hopefully still be valuable when it gets there. The crate is based on two pallets and considering all of the wood and structure needed to hold the DC-3 during transport the estimated weight of the loaded crate is about 150lbs.
If you are not familiar with the Ziroli DC3 it is 8' 5" long, has a 140" wingspan and weighs 44 lbs. The plane comes with a pair of Zenoah G-38's already installed and run in. It is a 1.5" to 1' scale model of the original DC-3 that continues to fly around the world. The Ziroli plans cost $70 and there are few who will quibble about that price because of the quality of the plans and instructions.
Click the images below to enlarge

The crate is based on two pallets and a bunch of tough wood. Note the care in re enforcing the joints with custom gussets. You can't take the builder out of people even when it comes to building a box!
The Zenoah G-38's remain in their mounts so the crate needed a way to support and stabilize the engines. Another custom fit idea.
There is a lot of thought invested in just laying out where everything will go so that it can be secured and padded to make the trip without damage.
No packing material is out of the question as different types have different properties that can help protect the different parts of the DC-3..
Everything is in place and all looks to be secure. I'm betting there was some time spent staring at this still-open box searching for a point of danger that might have been overlooked.
Closed and strapped the crate is ready to be loaded on the truck. I like the dollar signs that stress the value of the contents.

Visit the Ziroli Plans site - Click Here

Have a comment on this story? - Email Me!