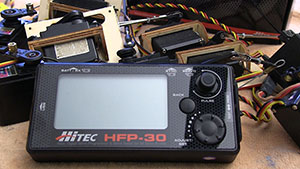 Getting the HFP-30 Field Programmer actually can make flying RC more fun and way safer for your planes!
Click image to enlarge
Hitec HFP-30 Digital Servo Programmer & Tester
Very useful Hitec magic in a box
Text, photos and video by Tom Hintz
Posted – 8-15-2017
I have long been a fan of Hitec servos as well as their servo testers/programmers starting with their Hitec HFP-25 Digital Servo Programmer & Tester that I reviewed a few years ago. (Link in Resources section below). When I did that first Review I was a little surprised at how little information Hitec had on their site about the programmer. Hitec is consistent because they also have precious little to say about the newer HFP-30 Field Programmer. The paragraph below is the entire product description/ information from their web site.
"Our lightweight HFP-30 hp Field Programmer is the latest in digital servo testing and programming. Packed with advanced features and a large, easy-to-read LCD screen, it efficiently programs Hitec digital servos, including the HS-5000, HS-7000, brushless (B series) HSB-9000, and the latest D-Series. Operating on a wide voltage range of 4.8~8.4, the Hitec HFP-30 is your hobby's best, must-have accessory."
I dislike companies that carefully overstate product descriptions to maintain plausible deniability when confronted with obvious distortions of fact. Conversely, Hitec could step up their product PR a bunch and never come close to that kind of deception-based grandiosity. The fact is, the HFP-30 Field Programmer is a thoughtfully-designed piece of electronics that can make your aircraft perform better and even save it. Hitec needs to understand that they have plenty of room to honestly toot their PR-horn more than they do currently.
In keeping with their minimalist approach to product information they added a USB port to one end of the HFP-30 Field Programmer and then resisted the temptation to tell anyone why it's there. They know of course, and will own up to it if you ask specifically about it, as I did. It's for future firmware updates, should any be needed. I discovered that they have a page on their site with a place for such firmware updates if they become available. See the link in Resources below for that Support page.
I really like powering the HFP-30 Field Programmer with an external battery (left) like a spare receiver pack. The controls (right) are simple and intuitive.
Click images to enlarge
Bad News, Good News
The Hitec minimalist gene also put a hitch in their instruction manual git-a-long. They do include a folded sheet called an instruction manual. That sheet is most useful as testament to the printing worlds ability to print words very small.
The good news is that they have a PDF version of the instruction manual (sheet) on their web site (link in the Resources section below) and someone forgot to limit the scaling. That means we can enlarge the instruction sheet on our computers so those of us who have lived beyond the "whipper-snapper" phase can actually read it without a magnifying lens.
The Basics
The HFP-30 Field Programmer is in fact two servo machines in one. A slider switch moves it from Hitec-specific servo programmer/tester to a generic servo tester. The HFP-30 Field Programmer now sports 37mm tall by 70mm wide LCD screen. Though there are no eye-candy graphics the information is presented in a size with adjustable contrast that makes it easy to read in nearly any reasonable light condition.
I suspect that the Hitec engineers and designers would love to make a programmer that handles all servo brands but there seems to be precious little standardization amongst servo brands to make something like that viable. If you like Hitec servos you get a box full of servo-tweaking horsepower that makes a bunch of servo installations and setup way easier and often cheaper than you might suspect.
Battery Power
The "sync" port (left) is used after setting one servo up and then matching that setup in another servo, in the sync port. Very handy. The slider switch (right) moves the HFP-30 Field Programmer between test and Program modes.
Click images to enlarge
New with the HFP-30 Field Programmer is using an outside power source in the form of a 4.8VDC to 7.4VDC battery. An old or extra receiver type pack will make it easier to charge (don't have to dig the pack out of the tester) but you must use a pack with a voltage that is compatible with the servos being tested or programed. You can even power the HFP-30 Field Programmer out of the receiver with a male to male cable.
So far in my evaluating (playing with….) the HFP-30 Field Programmer its usage of the battery power seems to be somewhere between minimal and I can't tell it used any. Conserving battery charge won't be an issue for anyone this side of fanatical users.
Test Mode
The HFP-30 Field Programmer makes it easy to see if a problem originates with virtually any brand servo by letting you move it through its range of motion. That lets you see if a servo is responding to signal, has motion and in the process, you get to hear if the gears sound busted. Though admittedly basic this testing can help you weed out the good servos from the bad when a plane starts acting up plus you can usually do it in the field, without removing the servo from the airframe.
Programming
The real star of the HFP-30 Field Programmer is its ability to program a large chunk of the Hitec servo line. Hitec' s digital servos have a micro-processor that enabled them to include a bunch of programming options with which to tailor servos more closely to the needs of your specific plane. I found out through an "almost" disaster that some of that programming can literally save your plane.
I was showing off one day flying knife edge figure 8's over the field and for some reason just kept doing it – for like 6 or 7 minutes. Suddenly the rudder neutralized so I landed to see what happened. See the Resources section below for a link to the full story on this incident.
The HFP-30 Field Programmer came in very handy when I needed to test (left) all of the servos from a plane that "had an incident". I also used the HFP-30 Field Programmer to return all of those same servos to the factory default (right) settings for a fresh start.
Click images to enlarge
Long story short, when I took the canopy off a distinct whiff of smoke came out and it smelled like the plane was still on fire. The rudder servo, which had lots of flying hours on it, did not like being essentially locked out the whole time that I was showing off and it overheated in a big way. The bottom of the lite-ply tray it was mounted in was all charred, as was the bottom of the servo. I had killed it. Enter OLP programming.
Hitec, through the HFP-30 Field Programmer lets you set something called OLP, Overload Protection. When the servo motion is resisted excessively this programming lets you set by how much the current is reduced (10 to 50%) so in the future my rudder servo just might survive my bravado.
You can do other things like setting up center and end points, something that can make lots of installations way easier and frequently eliminate the need for mixing boxes in the plane. I like doing this kind of setup with the servo installed so I can adjust the precise amount of control surface travel in real time.
To further enhance servo programming the include something called "sync" t hat lets you set up say one elevator servo on your larger plane and then perfectly "sync" another one to it. In this case, sync seems to be a lot like copying the servo parameters to another so they move identically. The result is perfectly matched servos without the ugly words and gnashing of the teeth.
Other programming modes include setting dead band width, servo speed, setting a failsafe position, enabling soft start, change rotation direction and return a servo to the factory basic settings so you can start fresh when you put a servo in a new craft. You can also "exercise" programmable servos with manual and automatic routines. I am betting that I have omitted at least one programming capability so there can still be a pleasant little surprise for you when you get your HFP-30 Field Programmer.
The Program Mode (left)is for the various programmable Hitec servos and gives you a wealth of tuning and adjusting capabilities. The OLP (Overload Protection) screen (right) lets you set the amount of current reduction is sent to the servo inner workings when a stall situation occurs. This can literally save a plane very easily. If you use it of course.
Click images to enlarge
I don't have all the Hitec servos in my shop so am not certain every servo in their line has all these programming features. I included a link to the Servocity.com Hitec servo chart as it shows what servos are programmable and in each servo description, tells us what programming features that servo has available. So far, I have not run into any programming issues, other than me forgetting to do it.
Just in Time
Shortly after getting the HFP-30 Field Programmer my Hangar 9 Valiant went splat due to a receiver malfunction. The plane made contact with the ground in almost a belly flop position so there was no obvious impact to control surfaces or the servos driving them. Still, having the HFP-30 Field Programmer available meant I could test them quickly and be more confident when installing them in my new Hangar 9 Valiant.
The HFP-30 Field Programmer has a built-in routine that lets you run the servo through its travel automatically. It can also be done manually but I like the auto version so I can feel the servo arm as it moves to feel for damaged teeth in the gear train. This test also shows that the servo is listening to signal inputs.
Finally, I use the "reset" feature that returns the servo to factory programming so I can start fresh in the new plane without worry of a forgotten endpoint setting getting in the way. I also like to go back to factory defaults so I can sync pairs of servos if I want and know there is nothing interfering with that programming.
Conclusions
Servos are hugely important to our planes and other craft so being able to set them up so precisely can make an equally large difference in how they perform. Being able to quickly test a servo for basic function, in the field, can be worth the price on its own. Digital servos have lots of capabilities and the HFP-30 Field Programmer lets you make use of them in a simple, reliable way.
The HFP-30 Field Programmer has a street price of $79.99 (7-14-2017) which seems very reasonable to me, the guy who burned down a $100 servo and nearly $2000 worth of airplane by not using one. For you, that is still a very decent price for the capabilities it brings to your pursuit of the hobby of RC flying. And, no charge for my smoke-based demonstration.
Resources
Hitec Support Page – Click Here

Attempted In-Flight Fire - Click Here

ServoCity.com Hitec Servo Chart- Click Here

Hitec HFP-25 Digital Servo Programmer & Tester - Click Here

Visit the HFP-30 Field Programmer product page – Click Here
Have comment on this Review? –Email Me!